(this is NOT the book; this is a sub-article for the time being)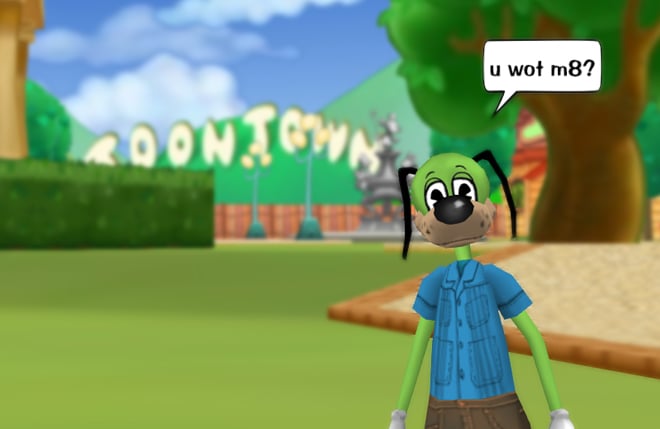 As an MMO player, private servers have held a strongity in my heart for a while now. But some how, in some way, disagreements and debates make their way into the private server world. In case you don't know, A private server is a fan-made manipulated version of an MMO. In the Toontown world, private servers sparked up in 2013 in response to the closing of Disney's Toontown online. It would be only a matter of time before the big question popped up: Which server is better?
Before we get into this debate we'll have to explain what differences exactly that a private server may hold in contrast to another. For an MMORPG like Toontown, differences can be from difficulty to design, to even community. Game design is usually crucial to a private server as it can't really be identical to the game it is manipulating.
Although these two servers share many similarities, even a few in contrast is crucial towards uniqueness. The game makers of both TTI and TTR clearly have different views of how the game should be remastered, and the competition is surely interesting. First we'll visit TTR, then TTI, then a conclusion to this mess.
Let's be reasonable, the only reason Rewritten is such a popular choice is because it was the first one to pop up; therefore it is the official one. This adds to community, the fact that Rewritten was "here first", makes it more official. Toontown Rewritten tends, from my view, to focus on content and community. The website and its blog posts are always petite; they are very neat with their work.
Because of this, Toontown Rewritten is a laid-back, easier private server. The game makers of Rewritten have been focusing on a very complex and good storyline, but the game performance and difficulty hasn't really been altered besides some animation differences. Don't get me wrong, their work here has been tremendous, but I think a more altered game performance would be great.
Toontown Infinite, the big challenge. Toontown Infinite seems to answer to the fans screaming "We want a challenge!". This private server has quite a tweaked game performance and makes it more of an obstacle for players who seek the challenges. This server is run by many of the community's veteran celebrities such as Lefty Lemonzilla, DJYC21215, ect. So surely, if you're a fanboy you'll most likely join TTI (Toontown Infinite) for this reason.
TTI Isn't really a mess around server. It is surely recommended for veteran players, because a wrong choice in a server like this is one a toon cannot afford. For this server, to sum it up, game play comes first.
In conclusion, it depends solely on your interests. If you seek quite a difficult challenge, TTI is the one for you. If you seek a laid-back, underground gameplay, TTR is the one for you. Both are great private servers, they are just difficult to compare which is better due to their extremely opposite purposes.